FREE 7-Part
DISC E-Course
Effective Communication
is More than Just
Talk, Talk, Talk...
The quality of your life
- both at work and at home -
is highly dependent on the quality of your relationships!
Improve your relationships
with your coworkers, managers, and family, by better understanding - first of all - your own behavior and the behavior of those around you.
Free basic behavioral/personality-style assessment included!

Sign up for our
7-Part E-Course NOW!
Simply fill in your name and E-mail address in the form below, then click on the "Submit" button to start receiving your E-course*.

* - We hate SPAM and will never share your information with a third party!

Go Back to DiSC Classic Go Back to Assessments
DiSC® Classic Facilitator Report*
This report provides a wide range of information about your group and it is most useful for supervisors, HR or general managers, and trainers who incorporate DiSC in their programs.
The DiSC Facilitator Report includes:
A breakdown by DiSC Quadrant showing the percentage of people who received high, moderate, or low scores in each of the DiSC styles. Each quadrant also displays the percentage of people who received a certain style as primary or secondary.
The DiSC Styles Distribution allows the facilitator to compare the group distribution in the four styles against the general reference data.
The Classical Pattern Distribution lists the number and percentage of people who received each classical pattern. Reference data is also provided as a point of comparison.
The DiSC and Group Culture section of the report provides an overview of each DiSC style as it relates to group culture. This section describes how you read your DiSC culture and helps facilitators understand the challenges and frustrations that individuals within that culture may face.
An Individual Data Table lists each individual by his/her primary and secondary DiSC style(s), Classical Pattern, and segment numbers. Names are organized by highest DiSC style.

For smaller groups (under 40 participants), the end of the report contains a bonus reference page that shows the DiSC quadrants and lists members who had their highest DiSC score in each quadrant.

(Please View a Sample Report for a more detailed description)
*- The DiSC Facilitator Report can be generated only after team members have completed the DiSC 2.0, DiSC PPSS, DiSC 2 Plus, or DiSC Classic 1.0 profiles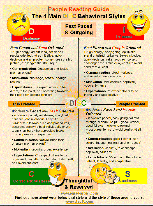 Get a FREE DISC People Reading Guide!
Get an understanding of the 4 main personality/behavioral styles and
improve your communication with everyone around you.
Click Here to learn more....