FREE 7-Part
DISC E-Course
Effective Communication
is More than Just
Talk, Talk, Talk...
The quality of your life
- both at work and at home -
is highly dependent on the quality of your relationships!
Improve your relationships
with your coworkers, managers, and family, by better understanding - first of all - your own behavior and the behavior of those around you.
Free basic behavioral/personality-style assessment included!

Sign up for our
7-Part E-Course NOW!
Simply fill in your name and E-mail address in the form below, then click on the "Submit" button to start receiving your E-course*.

* - We hate SPAM and will never share your information with a third party!

---



Invite E.G. Sebastian to Make Your Next Event a Total Success!

Whether you are looking for quality training for your employees, a keynote speaker for an event, or a presenter at one of your organization's upcoming conferences, you've come to the right place.

Do you need a 1 to 3 hours workshop, a half-day or whole-day seminar, or a keynote address?

The following are some of E.G.'s topics:

Workshops & Seminars

Dealing with Difficult People

Keynotes

Your Success Story Starts Today!

The 7 Building Blocks of Success (for youth events)

Your Attitude Determines Your Altitude

Leadership in the New Milenium

Communication is More than Just Talk

Transform Your Life into a Work of Art

Click on the links below - or on the drop-down menu under Workshops & Seminars (in the navigation bar) - to explore in more detail some of the currently available presentations.

For more info, please call 877 379-3793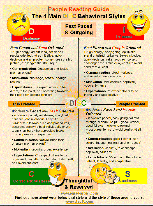 Get a FREE DISC People Reading Guide!
Get an understanding of the 4 main personality/behavioral styles and
improve your communication with everyone around you.
Click Here to learn more....