FREE 7-Part
DISC E-Course
Effective Communication
is More than Just
Talk, Talk, Talk...
The quality of your life
- both at work and at home -
is highly dependent on the quality of your relationships!
Improve your relationships
with your coworkers, managers, and family, by better understanding - first of all - your own behavior and the behavior of those around you.
Free basic behavioral/personality-style assessment included!

Sign up for our
7-Part E-Course NOW!
Simply fill in your name and E-mail address in the form below, then click on the "Submit" button to start receiving your E-course*.

* - We hate SPAM and will never share your information with a third party!

Invite E.G. Sebastian
- America's Peaceful Communication Messenger -
to Make Your Next Event a Stunning Success!
E.G. Sebastian is the author of
Communication Skills Magic
(2009) and
Back Off! Your Kick-Ass Guide to Stopping Bullying at Work
(2010); and a regular speaker and workshop presenter at corporate retreats, conferences, and leadership events.
He's most sought-out topics are in the area of...
s Effective Communication
s Conflict Management
s Workplace-Bullying
s Workplace Productivity
s Customer Service Excellence
s and other communication & relationship related topics
REQUEST A FREE PDF COPY - CLICK HERE!
For BULK PURCHASE ORDER, please Click HERE and send us a message. Please include the number of copies you need - the more you buy, the less you pay. Click Here to send message!
For more info, or to invite E.G. Setbastian
to speak at your next event, Click HERE
Let Us Help You Improve Team Performance, Customer Service,
Attract More Customers, & Increase Client-Retention!
Help your team better understand their personality style's Strengths & Weaknesses, and improve teamwork
Understand the Fours Customer Behavior/Communication Styles & Deliver Stelar Customer Service

based on that understanding

Eliminate Lateral Violence, Bullying, and other destructive behaviors

that negatively affect morale and productivity

(Workshops and/or Coaching)

Improve your relationships

with your customers, coworkers, and subordinates

(Assessment, Workshop, or Coaching)

Learn powerful, strategies on

how

to

Attract More Clients

with less effort

(12-Weeks Program, Workshop, Group-Coaching, or Individual Coaching)

Increase Your Sales Performance by discovering how your personality style affects your

sales style

; learn to capitalize on your strengths and manage your style's weaknesses

(Assessment, Workshop, or Coaching)

Learn about the Four Buying Styles and Discover How to Sell to Each Most Effectively

(Assessment, Workshop, or Coaching)

Explore how your personality style affects your productivity... and HOW to improve your productivity based on that knowledge?

(Assessments, Workshop, and/or Coaching)

Invite E.G. Sebastian to present at your next event!
Click HERE to eMail or Call 843 252-9966 / Toll FREE 877 379-3793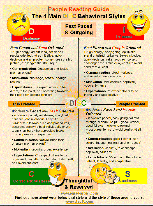 Get a FREE DISC People Reading Guide!
Get an understanding of the 4 main personality/behavioral styles and
improve your communication with everyone around you.
Click Here to learn more....
Testimonial from "Improve Your Teamwork & Team Productivity " Workshop:
I don't want to say that your presentation was informational - it was rather TRANSFORMATIONAL. Now I have a more in-depth understanding of why my employees behave the way they behave, and I can clearly see that they have a better understanding of my communication and management style. It definitely changed the whole dynamics of the workplace. (S. McKelvey, DC and his team - about 45 days after the event)
To read more testimonials - Click Here!