E.G. Sebastian, a veteran entrepreneur of 20+ years, is the President of E.G. Performance Solutions and an international speaker (who speaks 6 languages.) He coaches individuals and presents workshops on topics of sales, marketing, improving performance, and customer service.
E.G. started his professional career in 1990, at age 23, as an international business consultant, helping close to 100 new start-ups get their businesses off the ground. In 1992, he became the general manager and 49% owner of a Chinese-Hungarian joint venture - an export-import company - which he successfully managed till 1995. In the following years, E.G. shifted his career into his area of passion: public speaking and performance coaching.
E.G. is a certified DiSC Behavioral Styles Trainer, a Certified Professional Coach (CPC), and the author of several books, including Bushido Business – The Fine Art of the Modern Professional, co-authored with Brian Tracy and Steven M.R. Covey; and Get More Clients by Next Week – 51 Proven Marketing Strategies for Coaches & Consultants, due for publication this summer (Request an early pdf copy of the book at http://www.vcita.com/v/getmoreclients)
E.G. is also the co-founder of myClientAttractionAcademy.com where he shares marketing and client-attraction tutorial videos, lead-generation strategies, sample elevator pitches, sample email campaigns, library of marketing materials, and much more. Access more details at www.MyClientAttractionAcademy.com . For additional marketing tips or to ask marketing related questions, visit E.G.'s fan page at www.FaceBook.com/marketing151 .
Professional Memberships:
- American Seminar Leaders Association
- Toastmasters International - Area Governor (Area 14) & President(Beaufort Chapter)

Professional Background:
- Bachelors in Business Management
- Certified DiSC Behavioral System Trainer
- Certified Empowerment Coach (CEC)
- Certified Seminar Leader (CSL)
---
The following are E.G.'s most requested presentations:
Sales
-

Building a Sales Relationship


- Improve Your Sales Performance Strategies


- How to be More Responsive to Customer Differences




- 12 Weeks to Becoming the Go-to-Person in Your Niche (Training, Group Coaching, or Individual Coaching)



Management
- Maximizing Your Strengths as a Manager
- Recognizing and Removing Your Employees' Barriers to Performance
- Getting the Most from Your Key Contributors
- The 5 Dysfunctions of a Team - Creating Cohesive, Highly Productive Teams
.
Team
- 7 Steps to Improving Team Effectiveness
- 5 Steps to Improving Team Motivation

Communication
- Different People, Different Needs - 7 Steps to Improving Personal & Professional Relationships
- Understanding and Adapting to Different Behavioral Styles
.
Conflict
- Managing Conflict and Resistance
- How to Deal with Difficult People
.
Interpersonal
- Understanding and Using Your Strengths to Your Advantage
- Improve Your Confidence & Communication Skills by Building Greater Self-Awareness
.
Coaching Skills Training (for managers, social workers, and counselors)
- Understanding Your Clients'/Employees' Needs
- Tools & Techniques to Coach Your Employee to Increased On-the-job Effectiveness
- Tools & Techniques to Coach Your Client to more personal & professional success
.
Stress Management
- Stess Management for the Busy Professional

To request more information, please use the form below: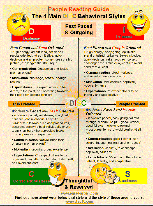 Get a FREE DISC People Reading Guide!
Get an understanding of the 4 main personality/behavioral styles and
improve your communication with everyone around you.
Click Here to learn more....