Coaching Skills 101
An out-of-the box approach to support
employee-development and goal attainment
A powerful training program developed specifically for managers and other professionals who work directly with employees in helping them set and accomplish goals. In this highly interactive workshop, participants will learn personal coaching skills that are used more and more today in the corporate world (and business environment in general) to help individuals set and accomplish goals in shorter time and with less effort.
Duration: 5 Hours
Benefits:
Dramatically improved communication skills

Increase your effectiveness at identifying clients' challenges

Become more effective at finding the motivating factors within your clients

Learn tools that will aid in setting desirable goals for your clients

Learn to use coaching techniques that will improve clients' likeliness of following through with their commitments towards their goals

Learn tools and skills that will aid in helping clients transform their scars into "stars"

Participants will learn to more effectively achieve their own personal & professional goal
Points Covered:
Brief intro to personal development coaching

Three levels of listening

Beliefs, Limiting Beliefs, and Values - the breakers or makers of success

The life-defining effects of Empowering and Limiting questions and other self-talk

Recognizing & eliminating hot buttons

Coaching tools: The Wheel of Life, The Ideal Image, Life Plan, Setting "SMART" Goals, Values Assessment, Cycle of change, and more...
Handouts:
workbook that includes all points covered, assessments, tools, and resources related to the topic

other handouts as appropriate
For more info, or to request this training workshop, Click HERE to Send a Message!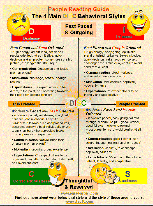 Get a FREE DISC People Reading Guide!
Get an understanding of the 4 main personality/behavioral styles and
improve your communication with everyone around you.
Click Here to learn more....