.
Adventures in Attitudes®
An Empowerment Strategy for Today's Workplace
In a national training survey, companies chose what ranked higher: employee aptitude, including hard skills and technical competencies, or employee attitude, including motivation, commitment, and communication. Nearly 60 percent of respondents ranked attitude as the number one priority. Coping with the continuous changes of today's downsized, team-oriented workplace has left many people confused and fearful. As attitudes deteriorate, so do levels of commitment and performance.

Empower Employees to Choose Their Own Attitudes
Adventures in Attitudes® is designed to help people understand that they can choose how to perceive and respond to events around them, and that it's in their control to change a negative outlook to a positive one. By establishing personal responsibility and accountability in the midst of change, individuals learn that passive resistance can be transformed into high-energy performance. Using small-group interactions, shared personal experiences, individual and group exercises, and facilitator-led discussions, Adventures in Attitudes provides a remarkable process for self-discovery.

Discover How Positive Attitudes Create Positive Action
Adventures in Attitudes provides organizations with a time-tested, life-changing human relations program that will:
gain committed employees, not compliant ones
foster communication and teamwork, not control
inspire leadership and innovation, not dependency
increase positive energy, not stress
encourage change, not resistance to it
create a climate of empowerment, not power
Give Employees Personal Satisfaction and Professional Success
Adventures in Attitudes provides individuals with the knowledge and skills to:
increase self-awareness and affirm strengths
transform negative attitudes
develop effective listening and communication skills
overcome self-imposed limitations
improve relationships
achieve new levels of performance
learn effective approaches to problem solving
The Adventures in Attitudes Trainer's Kit includes:
Completely Scripted Facilitator's Manual
(includes ice-breakers, energizers, and interactive exercises)
Participant's Guidebook
Affirmation Cards
Stopwatch
Canvas Bag
For more information please call toll free 877 379-3793 or fill out the form below: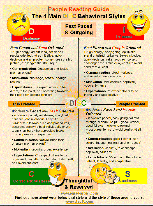 Get a FREE DISC People Reading Guide!
Get an understanding of the 4 main personality/behavioral styles and
improve your communication with everyone around you.
Click Here to learn more....