FREE 7-Part
DISC E-Course
Effective Communication
is More than Just
Talk, Talk, Talk...
The quality of your life
- both at work and at home -
is highly dependent on the quality of your relationships!
Improve your relationships
with your coworkers, managers, and family, by better understanding - first of all - your own behavior and the behavior of those around you.
Free basic behavioral/personality-style assessment included!

Sign up for our
7-Part E-Course NOW!
Simply fill in your name and E-mail address in the form below, then click on the "Submit" button to start receiving your E-course*.

* - We hate SPAM and will never share your information with a third party!

Inscape Publishing
Inscape Publishing has been the pioneer and leading provider of instrument-based learning systems since 1970...
Inscape pioneered the original DiSC® learning instrument over three decades ago. By today, Inscape has developed learning resources in 21 languages and distributes these tools in over 50 countries. More than 40 million people have used Inscape products to explore building stronger relationships. Innovation continues to be a driving force at Inscape - creating products and services designed to help organizations and individuals alike excel, energize, and empower.
Inscape's action planners, facilitator kits, and profiles - both the paper and the online versions - have been widely used in both the corporate arena and by small businesses all over the world.
DiSC®

For nearly thirty years, Inscape's DiSC® instruments have helped more than 40 million people gain the insight they need to be more successful, productive, and fulfilled at work. Widely recognized as a springboard for building a focused, aligned workforce, DiSC has become a key component in the employee development strategies of leading organizations worldwide.

Developed and refined over decades of use, DiSC instruments are based on a simple idea ? that the foundation of personal and professional success lies in knowing yourself, understanding others, and realizing the impact of your actions and attitudes on other people.


Instrumented Learning
Inscape learning instruments are designed to help people gain insight into their attitudes, behaviors, and potential in the workplace. By linking these insights to real-world-tested best practices, we accelerate the transformation of insight into action. This insight-to-engagement process helps organizations build a workforce that is more effective, focused, and aligned with company strategies and goals.
In addition to the industry-leading DiSC® tools, Inscape offers a broad range of learning instruments for different performance improvement needs.

A Brief History of Inscape and DiSC
The DISC theory was originally developed in the early 1920's by psychologist William Moulton Marston, who developed a theory to explain people's emotional responses to various stimuli. Marston's focus was on the emotions of "normal" people. Throughout the years, Marston's findings were further developed and by 1950 John Cleaver created the first forced-choice DISC instrument.
In 1970, two professors from the University of Minnesota - John Geier and Dorothy Downey -- further developed Cleaver's forced choice instrument and created the DiSC® Personal Profile System (a very similar instrument as today's DiSC Paper Profile). In this year Geier and Downey founded Performax Systems International.
Carlson Learning Company, a division of Minneapolis-based Carlson Companies, purchased Performax Systems International and took on the challenge of refining and developing the DiSC® assessment for the commercial marketplace. Carlson Learning was launched in 1984, when Carlson Companies purchased Performax. Carlson Learning introduced a major revision of the DiSC instrument in 1994, updating it with new language, research, and validation. In 2000, Carlson Learning Company was purchased by the Riverside Company, the top performing middle market private equity fund in the U.S. The company's name was changed to Inscape Publishing ("InsCape" is a hybrid word derived from Internal and Landscape) .
Here are a few more facts about Inscape Publishing:
Inscape was the first company to commercialize instrument-based learning, transforming the role of assessments in the workplace.
Inscape has the largest distributor network of any learning systems company.
Inscape products are integral to the learning and performance strategies of market-leading organizations such as Avon, U.S. Air Force, Guarantee Bank, Environmental Protection Agency, Oki Data, and Cargill.
Inscape is owned by The Riverside Company, the largest private equity firm specializing in middle market niche companies.
Inscape's corporate headquarters is in Minneapolis, Minnesota.
Inscape's international market expansion is led by Inscape Partners International ApS, headquartered in Roskilde, Denmark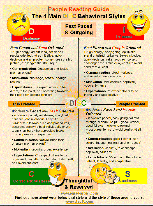 Get a FREE DISC People Reading Guide!
Get an understanding of the 4 main personality/behavioral styles and
improve your communication with everyone around you.
Click Here to learn more....