FREE 7-Part
DISC E-Course
Effective Communication
is More than Just
Talk, Talk, Talk...
The quality of your life
- both at work and at home -
is highly dependent on the quality of your relationships!
Improve your relationships
with your coworkers, managers, and family, by better understanding - first of all - your own behavior and the behavior of those around you.
Free basic behavioral/personality-style assessment included!

Sign up for our
7-Part E-Course NOW!
Simply fill in your name and E-mail address in the form below, then click on the "Submit" button to start receiving your E-course*.

* - We hate SPAM and will never share your information with a third party!

If you want to go one level above onlyWorkplace Spanish, here are few basics:
1

el hombre

el* ohm'brey

the man

* "el" pronounced
as the first part of
"el-bow"

2
la mujer
la moo'hair
3
el libro
the book
4
la pluma
the pencil
5
tiene
he/she has
6
El hombre tiene el libro
The man has the book
7
La mujer tiene la pluma
The woman has the pen
8
la madre
the mother
9
la casa
the house
10
La madre tiene una casa
The mother has a house
11
un (masculin) / una (feminin)
a / one (indefinite article)
12
una seņora
a lady
13
amable
ah'.mah.ble(y)
kind, nice
14
La seņora es amable
The lady is kind
Tiene & Tengo = s/he has & I have
15
el amigo
el ah.me.go
the friend
16
el dinero
el dee.ney.roh
the money
17
Mi amigo tiene dinero
me ah.me.go tea.ay.nay dee.ney.roh
My friend has money
18
el hermano
el air.ma.noh
the brother
19
la hermana
la air.ma.na'h
the sister
20
el hijo
el ee.ho
the son
21
la hija
la ee.ha'h
the daughter
22
el niņo
el nee.ņ.oh
(ņ sounds like the "n"in "onion"
the child
23
el padre
the father
24
Mi padre tiene on hermano
My father has a brother
25
tengo
tan.go
I have
26
Tengo una hija
I have a daughter
27
El niņo tiene una hermana
The child has a sister
28
Mi hermana tiene una hija
My sister has a daughter
29
Tengo un hermana
I have a sister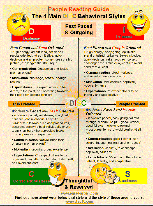 Get a FREE DISC People Reading Guide!
Get an understanding of the 4 main personality/behavioral styles and
improve your communication with everyone around you.
Click Here to learn more....