FREE 7-Part
DISC E-Course
Effective Communication
is More than Just
Talk, Talk, Talk...
The quality of your life
- both at work and at home -
is highly dependent on the quality of your relationships!
Improve your relationships
with your coworkers, managers, and family, by better understanding - first of all - your own behavior and the behavior of those around you.
Free basic behavioral/personality-style assessment included!

Sign up for our
7-Part E-Course NOW!
Simply fill in your name and E-mail address in the form below, then click on the "Submit" button to start receiving your E-course*.

* - We hate SPAM and will never share your information with a third party!

Wednesday, August 22 2007
Spanish

Pronounced

Enlish

1

hola

oh'la

- hello // hi


2

buenos dias
(can be used from
break of dawn till dusk
- it literally means "Good Day")


boo-ay-nohs dee-ahs

- good morning

3

buenas noches

boo-ay-nahs no-chess

good evening


4

adiós

ah-dee-ohs

- good bye
5

Como estas?
Coh' mo(u) est-ahs
How are you?
6
Muy bien
Very well
7
Gracias
Thank you
8
Asi, asi, gracias.
So, so, thank you.
9
Hasta mañana.
See you tomorrow.
10
Hasta luego.
See you later.
11
Como se llama?
What's your name?
12
Me llamo Marcos.
My name is Mark.
13
Mucho gusto en conocerle, Marcos.
Nice to meet you, Mark.
14
Por favor.
Please.
15
No
No
16
Si
Yes
17
Muchas gracias
Thank you very much.
18
De nada.
You are welcome (don't mention it).
19
Buenos dias
Good morning.
20
Buenas noches
Good evening.
21
A

diós

Good bye.
SMALL TALK
| | | | |
| --- | --- | --- | --- |
| 22 | Te gusta esto? | | Do you like this? |
| 23 | No | | No |
| 24 | No, no me gusta. | | No, I don't like it. |
| | | | |
| 25 | Te gusta esto? | | Do you like this? |
| 26 | Si. | | Yes. |
| 27 | Si, me gusta. | | Yes, I like it. |
| | | | |
| 28 | Muchas gracias. | | Thank you very much. |
| 29 | De nada. | | You are welcome (don't mention it). |

WHAT IS THIS?
30

Qué es esto?

What is this?
31
Esto es un... (masculin)
This is a...
32
Esto es una... (feminin)
*

In Spanish every noun is either feminine or masculin,
and (ussually) can be recognized by the ending of the noun
Most feminin nouns end in "a", e.g. la messa, la cassa, la montaña,
la mañana; but can have different endings as well, in which case can
be recognized by the definite article "la", e.g. la mujer

The definite article for feminine nouns is "la"
.... for masculine "el", e.g. el hombre, el papel, el señor...

NOTE: Do not stress about using the correct gender for nouns -
the main thing in the beginning is to get understood. Every
non-english speaker will be super happy if you simply understand
them, or if you make yourself understood.

33
Estos son... (masculin)
These are...
34
Estas son... (feminin)
These are...
35
Esto es el documento.
This is the document.
36
Estos son los documentos.
These are the documents
37
Esta es la oficina.
This is the ofice.
38
Estas son las oficianas
These are the offices.
More Small Talk...
39
No comprendo
no'h com(b).pray.ndoh
I don't understand
40
Comprende
com(b).pray.n.day
Do you understand?
41
hablo
ah.blow
I speak
42
un pocito
ooh.n poh.key.tow
a little
43
solo
only
44
Hablo solo un pocito Español
I only speak a little Spanish
45
habla
ah.blah
do you speak / does s/he speak / s/he speaks
46
Habla Ingles?
- - - - - in.glaze
Do you speak English? (Does s/he speak English)
47
repite
re.pee.tay
repeet
48
por favor
por fa(r)vor
please
49
Repite por favor
Please repeat
50
soy
I am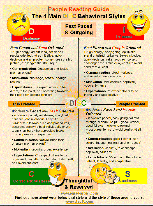 Get a FREE DISC People Reading Guide!
Get an understanding of the 4 main personality/behavioral styles and
improve your communication with everyone around you.
Click Here to learn more....