FREE 7-Part
DISC E-Course
Effective Communication
is More than Just
Talk, Talk, Talk...
The quality of your life
- both at work and at home -
is highly dependent on the quality of your relationships!
Improve your relationships
with your coworkers, managers, and family, by better understanding - first of all - your own behavior and the behavior of those around you.
Free basic behavioral/personality-style assessment included!

Sign up for our
7-Part E-Course NOW!
Simply fill in your name and E-mail address in the form below, then click on the "Submit" button to start receiving your E-course*.

* - We hate SPAM and will never share your information with a third party!

Life Skills 101 is a program that teaches youth critical life skills through edutainment. All of our programs are highly interractive keeping the youth engaged and motivated. Each module is quality content-rich, while designed to be entertaining, allowing the youth to learn important life skills in a non-threatening, friendly, and fun environment.
Life Skills 101 - Program Description

Our students were exposed to a valuable topic that would enhance their self-confidence when communicating or making choices in their career path. They became aware of different behavioral and communication styles and learned how to communicate with each style most effectively.

- LaGretta Howard, ETS Career Specialist -

Technical College of the Lowcountry

2. Goal-Setting & Goal Accomplishment

1. Attitude - The #1 Dream Maker or Breaker

- Your Attitude Determines Your Altitude

- The 3 Building Pillars of a Winning Attitude

- Self-esteem- 7 strategies to improve your self esteem

- Manners, Body Language, and Other Lessons in Confidence Building

- Turn Your Scars into Stars - How to Come Out Victorious After Facing Serious Crisis?

-Your Future Starts Today

-Discover and Capitalize on Your Strengths - Understand Your Short-Comings

-"I want it NOW!!!!" - Satisfying Short-term vs. Long Term Needs

-Discover your Purpose - Start Your Life's Journey with the End in Mind

-The Big 5 Breakers or Makers of your goals

-The Key to Success: Taking Massive Focused Action

-Building Others / Building Dreams

- Listening Skills

- Conflict Prevention & Resolution

- Problem-Solving

- Do's and Don'ts when Facing Arrogance, Cruelty, and Bullying

- Living in a Diverse Society - Raise Your Acceptance of Everyone Around You

- The 21 Unwritten Rules of Dating

- Social Media - Traps and Tips

4. Awaken the Leader Within!

- Finding Your Voice - What is Your Leadership Style?

- Are Leaders Born or Made?

- Levels of Leadership

- Public Speaking and Presentation Skills - a Leader's Most Powerful Tool

- Understanding and Accepting Diversity -- Effective Communication with Diverse

Personality Styles

- Dealing with Life's unexpected surprises

- Working Together as a Team in Good Times and in Bad Times

- Servanthood Leadership - Making a Difference

- Stand up Against Injustice (bullying, racism, discrimination)

- The 7 Fundamental Pillars of Leadership

†- Leadership Skills for the Team Leader †

5. From School to the Real World

- Responsibility is More than Just a Word in the Dictionary

- College, Trade School, or a Life-Time of Low-Paying Jobs?

- How to Find Your Dream Job?

- 21 Easy Ways to Lose Your Job in 10 Days or Less

- 21 Easy Ways to Keep Your Job and be Considered for Promotions

- Balancing finances (check book, Credit cards)

- 12 Ways to Sink Deep into Depts and Struggle for a Lifetime

- 12 Simple Ways to Stay out of Debt and Grow Your Wealth

* 6. Substance Abuse Prevention

- They Do it, Why Shouldn't I?

- 12 Reasons Why You Should Do Druggs, Smoke, or Consume Alcohol

- 1001 Reasons Why You Should Avoid Using Druggs, Smoking, or Consuming Alcohol

- It's OK to be the Only One Standing..

3. Effective Communication Skills

It is recomended to get all 6 modules; however, each

module can be presented as a stand-alone workshop.

For more information, contact us Toll FREE

at 877 379-3793

or (843) 252 9966

......

Workshop Participant's Testimonials...

"Thanks for the energy that you (E.G.) and Tiffany brought to the group! I believe that [the youth] learned much especially about themselves. A person may know themselves for the most part,but to put a name to an individual's style and see other qualifications of the other styles helps a person see where they are in this circle of life according to their unique personality styles."

Tamika Eugene-Brown

ETS Career Specialist

(Educational Talent Search)

I learned that it is ok to change and be different from others. It is ok to be "balanced" - you don't always have to choose a side - sometimes you can remain in the middle.

I enjoyed the speakers and the way thay they presented.

Jacilyn Anne Frazier

Beaufort, SC

9th Grade

This workshop helps you understand who you are, how to approach others who aren't like you, and it shows that "Communication is More than Just Talk...

Icelynn Coker

Hampton, SC

9th Grade

Today I learned how to interract with people of different personality styles. I also enjoyed very much E.G. Sebastian's humor.

Aaliyah S. Loadholt

I loved it when they used humor to make us understand more... I recomend this presentation to others. It is fun an dexciting. They should attend because they will learn a lot.

Leon Brown

Sheldon, SC

9th Grade

I enjoyed most the part where the presenters told us about their life []. To me it meant that you don't have to be perfect to [successfully] pursue your dreams.

Ashley Scott

9th Grade

Today I learned to talk to the four personality styles. I recomend others to attend this workshop because they could learn more about themselves and others, and to show that everyone is different. The world needs different people.

Logan Murdock

Ridgeland, SC

9th Grade

The things that I can apply imediately in my life are learning how to be more confidentd and outgoing.

Carollina Shantay Glover

Varnville, SC

9th Grade

I enjoyed most the magic knot "thing." I recomend this presentation to others - it help you get to learn more about yourself.

Ken-Yaidrei Crawford

9th Grade

After this workshop I can definitely take my education seriouslly. I recomend this workshop to others - it can definitely teach you thinngs you woul never even think of learning.

Fantasia Jackson

Estill, SC

9th Grade

I enjoyed the interactive activities and learned a lot about my behavioral style. I would tell others to attend this workshop to learn about their strengths and weaknesses, and to learn more about their communication style.

A.N.B

Yemassee, SC

9th Grade

I learned about different personality styles and how to approach different people.

Trevon Heyward

Burton, SC

9th Grade

Copyright (c) 2009

Life Skills 101 - Program for Youth K to 12

330 Robert Smalls Pkwy, Ste 24

Beaufort, SC 29906

(843) 252-9966

Toll FREE 877 379-3793

eMail: eg[at]egSebastian[dot]com

I enjoyed the entire presentation and the way Mr. E.G. and Ms. Tiffany presented! It was all good!

Tamika Eugene Brown

9th Grade

I learned how to set goals and try and reach them.

James E. Cato Jr.

Beaufort, SC

9th Grade

Your presentation made me realize that basically the future is what you make it.

Jaszlyn Forrester

9th Grade

The most valuable information I learned today was to Treat People as They Want to Be Treated. The presentation was "different" and energizing. I enjoyed the interaction among the groups.

I think the workshop was very informative and is very much needed in today's society. We need to learn how to deal with people who are different from us.

B.J.S.
Teacher

I learned how to approach and interract with people of different personality styles.

Anthony Morris

Detroit, MI

I would encourage others to attend the "Effective Communication Skills" module to improve their people skills.

Anthony Smith

9th Grade

This workshop [Effective Communication Skills] is very entertaining and you will learn about yourself.

Henry James

Jonesville, SC

9th Grade

I highly recomend this workshop to others. You'd learn a lot about how to communicate with [people of] different styles. They shoul dattend because it would motivate and help you in life!

AB

Beaufort, SC

9th Grade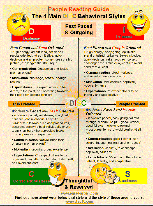 Get a FREE DISC People Reading Guide!
Get an understanding of the 4 main personality/behavioral styles and
improve your communication with everyone around you.
Click Here to learn more....